FAQ
USAGE
How to operate
---
Press and hold the power button to power up the device
Select the training mode (GYM/SLIM) by holding down the MODE button.
Apply a proper amount of LEBODY FIT cream to the four electrode plates.
Place on your desired area and hold between 3-10 minutes. The device will stop after 10 minutes.
Increase or decrease the settings based on your tolerance.
After use, wipe off any excess cream with a clean cloth. Place back on charging dock after use for your next session.
More questions? Watch the Video below:

Coming Soon
---
Can I use it every day?
---
Yes, it can be used daily. However, only use once per day per area. Refrain from using more than once in the same area as doing so may result in muscle fatigue. Also, if you sense something abnormal with your skin or body, stop use immediately and consult your doctor.
---
Can I use it in the bathroom?
---
The product is not waterproof. Refrain from using it in the bathroom as doing so may result in an accident, injury, damage or the product getting dirty.
---
How long is each session?
---
Each Session lasts for 10 minutes. The product will shut off automatically after 10 minutes
---
What level/Setting should I use it at?
---
Use a weak level when using it for the first time. Once you are used to a weak level, adjust the level as desired. Gym/Slim modes vary in pulse patterns. We suggest that you choose the setting that is most related to your goals. .
---
Is it okay to use the product while sleeping?
---
Do not use the product while sleeping
---
Is it okay to use the product during pregnancy or immediately after childbirth?
---
No, do not use this product at such times. Women postpartum or who are nursing should consult with their doctor.
---
Are there any places or conditions when I shouldn't use it?
---
Do not use on parts above the neck (head, face, etc.) or on areas around the heart, such as the spine, chest or shoulder blades. Furthermore, do not use if you have any heart conditions.
---
Will my muscles get sore from using this product?
---
Just as with any kind of training, your muscles may get sore. If your muscles are sore, refrain from using the product or lower the level.
---
Can I use without the LEBODY cream?
---
It is recommended that LEBODY cream is used prior to operating.
---
---
PRODUCT CARE
What is EMS
---
-requiring proper information for editing
---
How long will it take to fully charge the product?
---
-Receive Information from specification sheet
---
Proper Charging Methods
---
The Charging input requires a Micro USB. We recommend using the same charger provided from the original packaging
---
Prior to use
---
We suggest operating the product on full charge. Make sure all surfaces of the product are clean before applying the product.
---
After use
---
Wipe down any existing product that was applied during the session. Place back on the charger.
---
---
GENERAL
What is mid-frequency?
---
1. LEBODY uses 1,000 Hz range which has least skin resistance and less pain & inconvenience among mid-frequency (1KHz~10KHz) 2. Mid-Frequency currents penetrate deeply into the muscle beneath skin. 3. Mid-frequency stimulates muscles directly
---
Is the function of mid-frequency clinically verified effect?
---
The frequency of 1,000Hz stimulates muscle's maximum torque, according to Thesis or SCI level. Torque : Torque is a force that causes something to spin around a central point such as an axle.
---
What is 3 dimensional stimulation system by beat frequency?
---
More sensitive and powerful 3D dimensional stimulation system for effective toning muscle (Patent No. 10-1646086) Moreover, the thesis shows that beat frequency makes strong stimulation and strengthens muscles. * Beat Frequency (Interference) : In acoustics, a beat is an interference pattern between two sounds of slightly different frequencies, perceived as a periodic variation in volume whose rate is the difference of the two frequencies.
---
Who needs LEBODY FORM?
---
Those who: • Swell frequently • Lack time to exercise • Are de-motivated to exercise • Want to maintain & tone • Need massage in tense areas • Post-Partum (Child Birth)
---
How does LEBODY FORM work?
---
---
How does LEBODY FORM shape my body line?
---
Mid-frequency of Lebody strengthens muscles and decreases body fat component by increasing cellular metabolism. It improves body skin elasticity and reduces swelling. Lebody is for those who need to manage their body line regularly as well as a supplementary workout and for those who want to lose weight more effectively.
---
How does LEBODY FORM relieve muscle aches and stiffness?
---
Mid-frequency Pulse Stimulation improves the blood circulation by local vasodilation. It helps relieve muscle aches and stiffness by accelerating metabolism and eliminating body waste.
---
Is it Safe and Secured?
---
• 6 Intensity Levels & 2 Training modes (GYM, SLIM): User can freely choose the intensity and mode according to user condition and preference. • Illuminance Sensor : It detects body contact and protect skin due to the user's negligence. • Amperage compensation function: Lebody delivers safe and uniform amperage for patients regardless of patients' condition. (Patent No. 10-1646092)
---
Can I take LEBODY FORM anywhere and anytime?
---
• Train Anywhere: Train at home or wherever you go. Lightweight & portable 270g • Simply Recharge: Experience long battery life. Recharges quickly with charging dock. Compatible with any Micro USB charger • Patented by 'SEPPIC', France: Adipoless & Herbal blended Botaniceutical plus-10. Doubled effectiveness for slim, elastic body. • Quick Healing, Vital Living: Mid -frequency improves blood circulation. Get healed quickly from your muscle pain and aches.
---
What is gym mode and slim mode?
---
Maintain daily with Gym Mode, best when used post-training. Use Slim Mode to develop your shape. Pulse stimulation pattern differs to target muscle development differently
---
Is Lebody Fit massage cream better than others?
---
• Better effect. With exclusive massage cream. • Doubled effectiveness by patented ingredients. - Patent from SEPPIC, France.
- Adipoless, botaniceutical plus-10, yerba mate extract, and aloe vera
---
Does LEBODY FORM help to reduce cellulite?
---
Yes. It is clinically and statistically proved. DUB-Skin Scanner was used to evaluate temporary cellulite reduction and improvements in boundary lengths of skin and underlying fat. Results before and after testing product use showed statistically significant results. Improvement rates in boundary lengths of skin and underlying fat are as follows: 9.47% after 4 weeks of use, 20.59% after 8 weeks of use.
---
How popular is it in Korea?
---
• Over 4000 units sold within the first hour of broadcast • Sold out 14 out of 20 Home shopping shows Within a 7 month period! • Exceeding $15 Million in sales with great Consumer Feedback • LEBODY is certified and recognized by medical professionals and doctors of oriental medicine. • Loved by Celebrities • A growing demand in Spas, Salons, aesthetic Shops, Etc
---
How long can I use LEBODY FORM?
---
• Operate Lebody on the area you want to manage every day. • Do not operate it on your face.
---
How to use LEBODY FORM?
---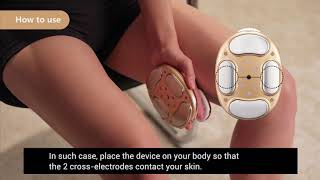 ---
What are those buttons and indicators for?
---
---
What items come with LEBODY FORM?
---
---
What are the specs of LEBODY FORM?
---
---
What specs of LEBODY FORM are better compare to other products?
---
---
---
Check FAQ page before you submit contact form. It is conveniently designed to find the answers using searching tool.
If FAQ page couldn't answer your question, we are always here. You can simply fill this contact form and hit the submit button.
We will get back to you ASAP!